Four benefits of a tankless water heater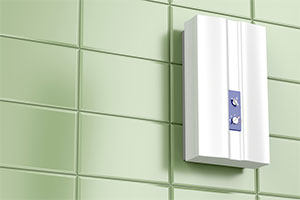 With no pilot light and on-demand water heating for your shower, sink, dishwasher or washing machine, a propane tankless water heater (sometimes called a demand water heater) is considerably more efficient that a conventional model (one that stores hot water in a tank)  – especially one powered by electricity.
In fact, according to the Department of Energy (DOE), an ENERGY STAR®-rated tankless water heater can operate up to 34 percent more efficiently than a conventional water heater –even more if one is installed at each hot water outlet.
With that kind of savings, a tankless propane system could pay for itself in just a few years while delivering other great benefits to your Middle Tennessee or Southern Kentucky home, including:
Unlimited hot water – Imagine never running out of hot water in the shower –even if the dishwasher and washing machine are running. As long as water is flowing into your tankless system, you'll have hot water coming out.
Lower bills – Heating water accounts for up to 18 percent of your monthly energy bill, says the DOE – so every little bit you save helps home comfort bottom line.
More placement flexibility – Tankless systems are about the size of a suitcase and can be wall mounted – which means you can put them in crawl spaces, attics, closets, and other tight spaces.
Longer equipment life – On average, a tankless water heater lasts more than 20 years – considerably longer than the 10-15 years expected for storage water heaters or their electric-powered counterparts.
Tankless water heaters do cost more up front than conventional water heaters , so careful consideration should go into choosing a water heater that fits your budget and lifestyle. If you need some help with that choice, contact us – we're here to help.
Save up to $100 on Rinnai tankless water heater, expertly installed by Advanced Propane. Contact us today to learn more!