10 Summer Safety Tips for Your Outdoor Propane Grill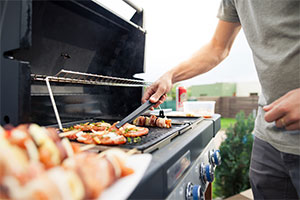 It's prime outdoor entertainment season here in Tennessee – time to get out and get cooking on your propane grill!
Just be sure to do it safely.
Each year, thousands of preventable grilling accidents across the country cause injuries to people and damage to property. You can avoid becoming part of those statistics by remembering these propane grill safety guidelines during your summer celebrations.
Stay near your grill – Unattended grills are the source of more than 46 percent of cooking fire-related civilian injuries, says the National Fire Protection Association – more than any other factor.
Keep it clean – Flare-ups from leftover grease can cause severe burns; thoroughly clean your propane grill after every use.
Leave space between your grill and your home – Keep your grill at least five to six feet from the house – on a level surface that is clear of potential fire hazards.
Do a leak check – Before you light your grill, check it for leaks – especially if you have just changed your propane cylinder.
Be prepared for a fire – Keep a fire extinguisher near your grill and make sure everyone knows where it is. Baking soda will also work in a pinch. NEVER try to put out a grease fire with water.
Never use an outdoor propane grill in your home – Not only is it a fire hazard, it can also cause a deadly build-up of carbon monoxide inside your home.
Keep the lid open until you're sure the grill is lit – A closed lid can cause an explosive build-up of propane gas.
Shut down your gas grill completely when you finish cooking – Turn off both the burner control and the cylinder valve.
Correctly store replacement propane cylinders – Keep them outdoors in their vertical position.
Follow safe transportation practices – When transporting your tank, put it in a secure, well-ventilated location in your vehicle. Place it upright with the valve off, and take it directly to the refilling location. NEVER leave the tank unaccompanied in the vehicle!
Always practice propane safety – in or out of your Lebanon-, Cookeville-, or Hartsville- area home! Contact Advanced Propane today to learn more about propane safety, or to explore our great propane appliances and services.