Six reasons to have a whole house generator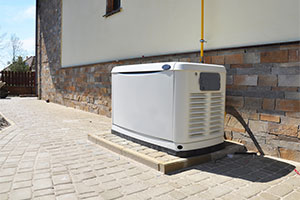 Severe weather seems to get more common each year here in Middle Tennessee and Southern Kentucky (be on the lookout for Florence this week)– and with that severe weather can come inconvenient or even dangerous power outages.
One of the best ways to protect your family and your valuables when the grid goes down is to invest in a whole house propane gas generator. A backup generator – which looks a lot like your outdoor A/C unit with a cover on it –connects directly to your home's HVAC and electrical systems and starts automatically within a few seconds after an outage.
More than just keeping the lights on
Staying out of the dark is the most obvious benefit to having a propane backup generator, but it's far from the only one. Here are six important benefits to having a backup generator in your home:
Life-saving backup power for medical devices – A whole house generator will keep emergency medical equipment up and running.
Flood protection – Your generator will keep your sump pump working when the power goes down.
Security for your valuables – A whole house generator will keep home security systems running throughout the outage.
Charging power – A whole house generator will help keep you connected to friends and loved ones by helping you keep battery operated radios, laptops, tablets and cellphones charged.
Food preservation – Generators can keep hundreds of dollars of food from spoiling.
Comfort – A whole house generator will keep your heat, A/C and Indoor air quality equipment running.
Be prepared for severe weather this fall and winter! Contact Advanced Propane today to learn about propane whole house generator options for your Middle Tennessee and Southern Kentucky home.