Take Advantage of Smart Technology to Monitor Your Propane Heating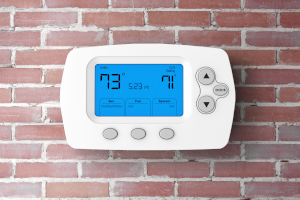 The EPA estimates that you can save up to $180 every year just by installing a programmable thermostat and using it effectively – enough of a savings to cover the cost to install one in just a year or two.
But what about "Smart Thermostats?" Are they worth the time, money and effort to install? Let's take a look.
Remote controlled climate
Any thermostat will let you set your home temperature at the push of a button; a programmable thermostat combines that capability with a timer, so you can change temperatures at set times throughout the day and week.
But a smart thermostat takes things a step further by giving you an unprecedented ability to monitor and control your propane heating from a distance. Imagine being able to turn up the heat on your way home from work so it's nice and cozy when you arrive – or avoiding the hassles and dangers of frozen pipes in a vacation property by turning up the heat when an unexpected blizzard hits – all from your cellphone.
Some smart thermostats can even tell you how long it will take to raise the temperature to your desired setting; others will help you set household humidity (if you have a home humidifier or dehumidifier) so you can be as comfortable as possible in any season.
The bottom line: if used correctly, a smart thermostat is a convenient and powerful way to manage your propane heating and keep your bills as low as possible (especially when combined with a high efficiency propane heating appliance). It will pay for itself quickly and give you more control than ever over how you heat your Tennessee home.
Heat smarter this winter with high efficiency propane equipment – professionally installed by the experts at Advanced Propane. Contact us today to learn more!