Get a $50 Credit on Your Account When You Refer a Friend to Advanced Propane!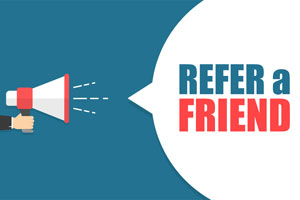 If you're a satisfied Advanced Propane customer and know someone who could benefit from our propane services, why not send them our way and get a $50 account credit for yourself?
Here's how the Advanced Propane Refer a Friend program works: For each qualified* new customer you send our way, we will credit your account for $50. We'll also provide a FREE** tank swap and FREE gas system check for their system when they become an Advanced Propane customer!
Refer as many friends as you want – there's no limit to how much credit you can earn!
Friends anywhere in or near our Middle Tennessee and Southern Kentucky service area can become Advanced Propane customers, including people living in and around our Hartsville, Lebanon, and Cookeville offices.
If you're not sure if we serve the area where your friend lives, contact us.
Fill out our online form to refer a friend today and save on your next bill. If you have any questions, just let us know!
* For homeowners only. Other conditions apply. Contact us for details.
** Exceptions may apply. Contact us for details.