Six reasons to choose a propane gas log set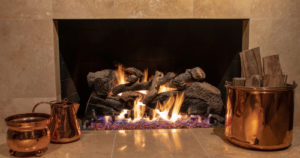 It's been a long, cold week. You come and think, "a fire would be really nice tonight."
The only problem is you forgot to pick up wood on the way home. Then you think of how long it's going to take to set up the fire, and how you have to watch it closely in case an ember flies out, and how after all of that you have to put the fire out, sweep the ashes, and prepare it for the next "relaxing evening." Pretty soon, you're wrapping yourself in a blanket and skipping the fire altogether.
It's a scenario that most busy people who own a fireplace are all too familiar with – but one that people who own a propane log set have left behind.
Today's realistic propane gas log sets bring you the cozy warm glow of a wood fire without most of the drawbacks – and with some practical benefits that a wood fireplace just can't touch.
If you have an existing fireplace that you avoid using because it's too much of a hassle, or because it's just an impractical way to heat your living room – a propane gas log set could be a perfect choice for you. Consider these great propane log set benefits:
Convenience – With a propane gas log set, a roaring fire is always a click away; say goodbye to wood gathering, fire starting, and ash cleanup.
Efficiency – A propane log set operates at about 80 percent efficiency – about four or five times more efficient than a wood-burning fireplace.
Cost – Invest in a propane log set and you will avoid the cost of buying wood night after night – and maintenance on a propane log set is far less costly than chimney cleanup.
Versatility – A propane log set isn't just an attractive centerpiece for your living room – it's also a power outage-proof space heater that can lighten the heating load on your furnace.
Health impact – Burning wood produces "fine particulate matter," or PM2.5 – microscopic nasties that can wreak havoc on your respiratory system, cause heart attacks, and more (you can read more about PM2.5s on the U.S. Environmental Protection Agency's website). With propane, you avoid the dangers of PM2.5s.
Environmental impact – Burning wood produces about 28 pounds of smog-producing soot and ash per MMBtus of heat output; propane produces less than one percent of that total.
Want a fireplace experience without the hassle of burning wood? A propane gas log set could be perfect for you. Contact Advanced Propane today and ask for a FREE, no obligation estimate on a propane fireplace installation – you're only a day away from enjoying it in your Middle Tennessee or Southern Kentucky home!