Propane: The All-American Fuel Choice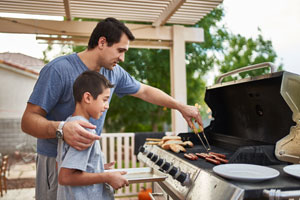 As you fire up your propane grill this summer, it's important to know that you are supporting a fuel source that is largely made right here in the United States.
In fact, did you know just how many people within the continental United States use this extremely versatile, and clean, fuel source? Let's get you caught up with some fast facts about Americans and propane:
7.8 million homes in the U.S. use propane for heating
105,000 Tennessee homes are heated with propane
4.6 million American homes use propane for water heating
42 million homes use propane for grilling
90% of our propane supply is generated domestically
Propane itself is a by-product of natural gas processing and petroleum refining. Every day, propane facilities generate two million barrels of propane. Because propane production has grown so much in the last 10 years, half of that is shipped overseas, providing more revenue sources for America's propane providers, as industries such as manufacturing, transportation and agriculture increase their usage of it.
Propane also powers the United States' — and Tennessee's — economy, too!
$46 billion is generated by the propane industry for the United States' gross domestic product
75,000+ people work in propane-related jobs nationwide
2,546 Tennesseans work in propane-related jobs
By using propane from local providers like Advanced Propane, your dollars are going to a local business, employing local workers who also support your local economy!
You also keep more dollars in your own wallet, too! Propane home heating systems, fireplaces and water heating systems can keep your home comfortable for less money on energy costs.
Keep the Red, White and Blue Clean and Green
There's another way propane is good for both America, and Tennessee. Using propane creates a much smaller environmental impact on Tennessee's air, soil and water. It's listed as a clean fuel under the 1990 amendments to the Clean Air Act and the National Energy Policy of 1992 due to its largely-reduced emissions compared to other fuel sources.
Unlike other fossil fuels like gasoline or kerosene, propane won't cause damage to marine or plant life, drinking water or soil in the event of a leak.
The professionals here at Advanced Propane are happy to teach you about all-American propane, and the benefits it can provide you in your own home. Be sure to contact us to become an Advanced Propane customer, today!