Why is My Propane Tank a Light Color?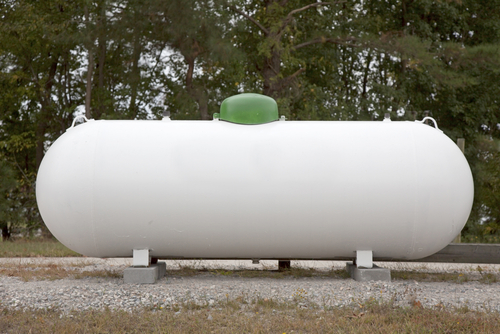 Why You Should Never Paint Your Propane Tank to Match Your Dark-Colored Home
At Advanced Propane, we're your neighbors – a big reason why we care so much about the communities we serve in Middle Tennessee and Southern Kentucky.
One of the ways we show that we care is by putting safety at the heart of everything we do – from making sure our drivers and technicians are always up-to-date on the latest propane safety measures to making sure our customers know how to protect their families in a propane-powered home.
When it comes to keeping you safe, the devil is in the details. Take the color of your propane tank, for example: have you ever noticed that the aboveground propane tanks that we install and lease are always a light color? That's because propane, like water, expands in the heat – it just does it a lot more and a lot faster than water (propane expands at about 17 times the volume of water over the same temperature increase!).
Now think about your propane tank sitting all day in the summer sunshine and heat. If the tank is light-colored, it will reflect much of that heat; it if's dark, it will absorb it. That absorbed heat can expand your propane to potentially dangerous levels – which is why you should never paint your propane tank a darker color to match your home!
The 80/20 rule
Safety is also the answer to another question you may have: Why is my propane tank only 80 percent filled?
Again, we get back to propane expansion: that 20 percent of empty space gives the propane room to safely expand when it gets warm (you might hear this referred to as the "80/20 rule"). In other words, your 500 gallon propane tank really holds only 400 gallons of propane; the rest is space to allow for expansion.
During summers in Middle Tennessee and Southern Kentucky, there may be times when we have fast temperature swings. For example, a hot day followed by a cooler night. That fluctuation in temperature may cause fluctuation in your propane tank levels. That's normal: the density of propane is simply adjusting to the change of temperature. The amount of propane in your tank hasn't changed.
Checking your propane tank levels is one thing you don't have to deal with when you have Keep Filled automatic propane delivery from Advanced Propane. We estimate your propane usage and schedule a delivery before you run low.
You can count on the pros at Advanced Propane for safe and reliable propane delivery in Middle Tennessee and Southern Kentucky. Contact us today and become an Advanced Propane customer!