Propane Gas Extends Your Summer Into Fall!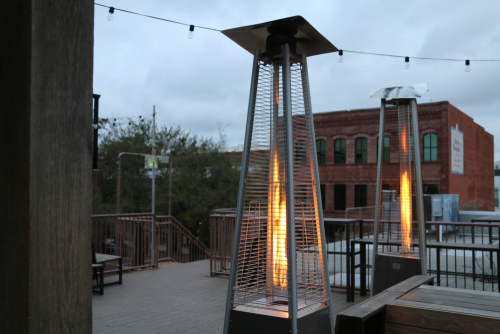 Propane fire pits and patio heaters can keep your outdoor fun going
There are so many great things about summer in middle Tennessee and southern Kentucky: the cookouts, the pool parties, the family get-togethers.
Want to have more of those good times this year? Advanced Propane can help with propane and outdoor propane appliances to keep the party going long after the first day of school rolls around.
Fire pits warm you inside and out
Who needs to buy firewood, then build or light a fire when you have a propane fire pit and propane gas logs! All you have to do is turn it on and relax! No need to worry about smoke or embers when you're ready to go inside – just turn it off, and you're done.
Propane gas lights enhance your yard
The sun will be setting earlier as autumn approaches, but don't worry – outdoor propane gas lights let you enjoy your back yard long after the stars come out. They create a warm glow, more attractive than electric lights. We have propane gas lights that will flatter any style of home. And, since they're powered by propane, they'll work when the power's out!
Keep the pool party going with a pool heater
A pool is the center of fun in many a back yard. Why not enjoy your pool longer? A propane pool heater can do that for you, keeping pool season going longer into the year and starting it earlier next spring. Let us know if you need a fill-up to keep yours running late into the summer!
Patio heaters keep the cookouts cozy
Why stop enjoying your patio just because the calendar says it's fall? Propane patio heaters mean you can relax, enjoy meals made on your Broilmaster propane grill, and gather with friends outside even when it's not a hot summer's day.
Advanced Propane can help you with advice about, and sales and installation of outdoor propane appliances, and can deliver the propane for them! Contact us to find out more!