VENT-FREE OR VENTED GAS LOGS: WHICH ONE SHOULD I CHOOSE?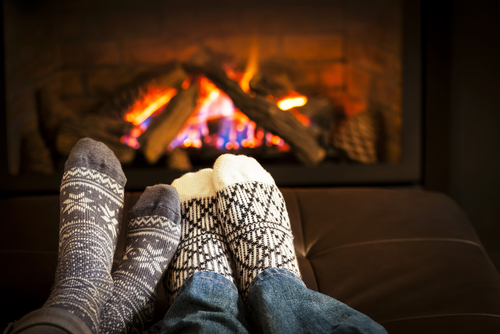 We'll help get you started on picking the right propane gas logs for your home
There are a lot of awesome things about adding a propane gas log set to the existing masonry fireplace in your Tennessee or southern Kentucky home.
You get all the cozy, comfy warmth of a fire at the flick of a switch or the push of a button. No need to deal with firewood or building a fire. There's no wait to get the fire going. And there are no ashes or soot to clean up after.
Advanced Propane offers quality gas logs from top manufacturers like Empire, RH Peterson and Superior. All of our gas logs come with high-definition bark and natural color so you get the look of wood for that attractive ambiance.
Now it's time to choose what kind of gas logs you want. Your choices are vented gas logs and vent-free gas logs. Do you know the difference?
If not, we're here to walk you through your choice. Both are great, but the right one for you depends on your needs and your home.
To help you make that choice, we've put together a primer on each kind of propane gas log.
Vent-free propane gas log sets
These are actually vent-free heaters with an attractive log look. They include features like an oxygen depletion center and safety shutoff.
The big bonus of vent-free gas log sets is that they offer almost 100 percent efficiency, so just about every penny of every dollar you spend on propane for your gas logs goes towards heating.
Since these gas log sets have no vent, the flame is toned down to meet the safety standards and specifications of a traditional vent-free heater.
Today's vent-free gas log sets are rated at about 40,000 BTU's an hour.
If you have a small or medium-sized fireplace and your primary goals are efficient heating and having a backup heat source for power outages, this is likely the option for you.
Vented propane gas log sets
If you have a larger fireplace and like the look of a roaring fireplace, vented gas log sets are the ones for you.
However, there are trade-offs. The first tradeoff is how much propane you'll use.
Vented gas log sets are rated at between 80,000 BTU's and 90,000 BTU's per hour. That means you'll be burning twice as much fuel as a vent-free gas log set.
By design, some of the heat generated by a vented gas log set will escape through the chimney. Most sets come with a damper block that opens the chimney flue to let combustion gases escape through it.
So, if you value long-lasting comfort and ambiance at only a slightly lower efficiency, look into vented gas log sets.
Contact the propane appliance professionals at Advance Propane to learn more about which propane gas log set is right for you, and all they can do for your home. And don't forget about the propane for your gas log sets, too! We offer safe and reliable propane delivery to keep you filled up all season long.