Propane Grilling Safety Tips for Summer 2020
Don't ruin the cookout with a grilling accident!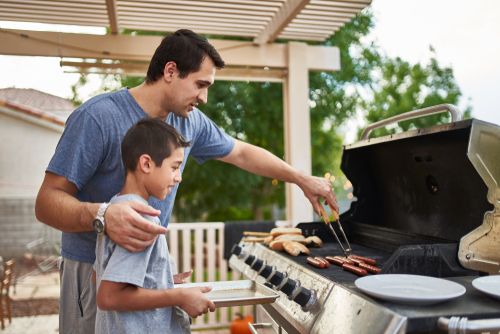 It's hard to believe that Memorial Day weekend is just a few short days away.
Not only is it the unofficial start to summer, it's also the unofficial beginning of grilling season. Throw in that May is National Barbecue Month, and there are many reasons to get out there and fire up your propane grill.
Before you start flipping those burgers, you have some work to do. First, carefully inspect your grill and give it a thorough cleaning. Second, see how much propane is in your BBQ grill's propane cylinder and either refill it or go to your local propane cylinder exchange for a fresh, full tank. Running out of propane is something you don't want for your cookout.
Something else you need to do is brush up on propane safety.
Be safe when grilling
We've put together a list of things to do, as well as not to do, so you can enjoy grilling without worry.
Clean your propane grill, not just the grates, regularly. One in five grill fires is caused by leftover grease. Empty and clean the grease trap frequently, ideally after each use. Also, insects can make themselves at home in a grill's burner tubes, creating clogs. Check those and clean as needed.
When grilling, make sure a working fire extinguisher is handy.
Place the grill on a flat, level surface so there is less chance of it tipping.
Keep the grill at least five feet from the house, outdoor furniture, trees, and bushes.
While grilling, keep children and pets away from the grill.
NEVER leave a lit grill unattended. Make sure you have everything you need in place before you start the grill.
If the starter on your grill is broken, don't use the grill. Look into buying a grill with an automatic starter. Advanced Propane has a great selection of propane grills from Broilmaster!
NEVER use your grill indoors or in an enclosed or covered area like a garage, sunporch, or carport. Dangerous levels of carbon monoxide, a potentially lethal gas that can't be seen or smelled, can build up.
Contact us to learn more about propane safety, or to get set up with a brand new grill to enjoy year-round! Advanced Propane has you covered.