Find out the benefits that come with leasing your tank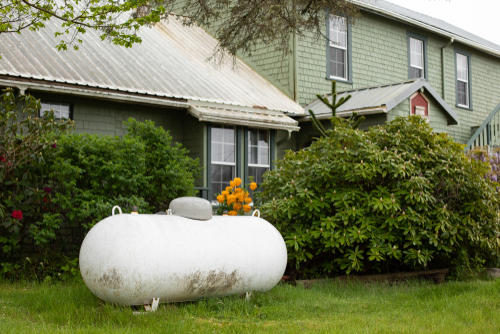 If you own the propane tank at your home here in Tennessee or Southern Kentucky, Advanced Propane will be happy to provide reliable, safe propane deliveries whenever you need it!
However, if your tank is leased from another propane delivery company, no other propane delivery company, including us, will be able to deliver propane to your home.
Why is that? Let's explain.
By owning your propane tank, YOU get to choose who delivers your propane. And if you're not happy with the service you're getting, or want to shop around for lower propane prices, it's simple and easy to change propane delivery companies.
But there's certainly a catch. When YOU own your propane tank, you also own the responsibility for it. That means you are the one responsible for maintaining and repairing your propane tank, making sure it is safe to use, and paying all costs associated with it.
If you have to replace a propane tank that is outdated, or in bad condition, or if you need a larger tank because you've added more propane appliances such as a range of water heater to your home, you're on the hook for all the costs. And that can get pricey, as purchase and installation can cost thousands of dollars.
But when you lease your propane tank from Advanced Propane, you have none of that work, worry, hassle or expense!
First, WE will thoroughly discuss your propane needs so we know what you're using propane for in your home. That information allows us to choose the perfect size tank that best suits your needs.
Then OUR trained, experienced technicians will properly install your propane tank. We install both aboveground and underground propane tanks. If you are installing an underground tank, WE also provide backhoe service. We guarantee our work is done to meet the highest safety standards.
And that's not all. Service doesn't stop with the installation of your propane tank. WE take care of all of the maintenance and repairs as long as you're a customer, whether a few years or a few decades! You'll have peace of mind that your tank is being taken care of by knowledgeable professionals, and you aren't stuck with the maintenance or repair bills or any unfortunate hassles.
Contact Us to find out more about propane tank leasing – and just how simple, quick and easy to switch from your current provider.
Advanced Propane: We design it. We install it. We deliver it. We service it! The largest family-owned propane businesses in the region since 1992.