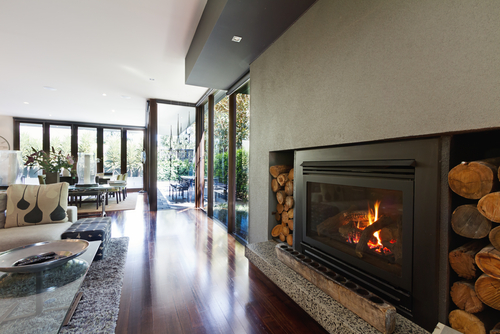 Home and Hearth Installations for Your Home
Now is the perfect time to install and ensure comfort for the cooler months ahead
As fall weather kicks in here in Tennessee and southern Kentucky, many of us are thinking about adding a little bit more coziness to our lives.
That coziness can come in the form of Grandma's pot roast recipe, putting on your favorite flannel shirt, or making caramel apples with the kids or grandkids.
One other great way to add coziness to your home is to install a fireplace or hearth.
If you've wanted one previously but have been worried over the expense and work of a wood-burning fireplace or hearth in your home, we have a great solution. Install a propane fireplace or hearth with gas logs from Advanced Propane instead!
Our gas logs are durable, attractive, and come in a variety of wood styles.
The advantages of propane hearths and fireplaces
If you don't already have a fireplace in your home, you may have priced out how much it would cost to install a masonry fireplace needed to burn wood. And then keeled over from sticker shock. The costs can go over $10,000!
There's also the disruption of your home life, as this project takes weeks and makes a big, dusty mess.
But you don't need an existing fireplace or chimney to have a propane fireplace or hearth. Installation can take as little as a day with no big mess, and with a much lower price tag. If you do have an existing fireplace, you can install a propane fireplace insert.
Why choose a propane hearth or fireplace?
With a propane hearth or fireplace, you get the cozy, comfortable warmth of a fire without the work, smoke, and mess of a wood fire.
Propane fireplaces and hearths give you space and supplemental heating for your home much more efficiently than wood-burning fireplaces and stoves.
You get precise temperature control with the push of a button with a propane fireplace hearth. No wood fire will give you that!
By scheduling your installation now, you beat the rush ahead of the really cold weather to come and be able to enjoy your new propane hearth or fireplace right away.
Save Big – Today!
And right now, you can save up to 15% on select Real Fyre Gas Logs or Space Heaters! When you purchase these products from Advanced Propane, you'll get professional installation as well as a complete system check to ensure both your safety and your total comfort.
Call us today to find out more about our propane hearth installations or for an in-home estimate. This offer is valid through November 30, 2020!