How Long Are Propane Tanks Built To Last?
Learn More About Your Home's Propane Tank!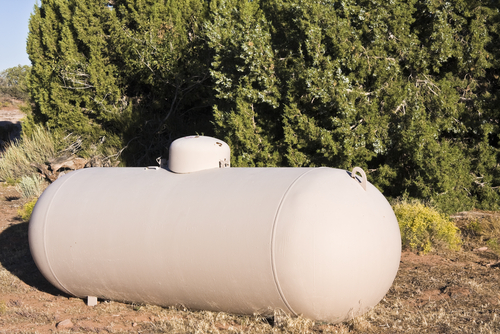 You know the benefits propane brings to your home such as efficient home heating and water heater, better and more precise cooking with a propane range, and easy comfort with a propane fireplace.
But, to enjoy those benefits, you need a propane tank. And you've come to the right place! Advanced Propane provides safe, expert installation of both aboveground and underground propane tanks, as well as backhoe service for underground propane tank installations. And we give our customers the most reliable propane delivery service in Tennessee and southern Kentucky.
You may still have some questions about propane tanks in general, though. These are questions we frequently get, so we've answered them here for you.
How Long Should My Propane Tank Last?
The propane tanks installed by Advanced Propane are made with top quality heavy-gauge steel and a special coating to prevent corrosion. This commitment to safety and durability means that today's propane tanks can last 30 years or longer with proper maintenance.
There are several factors that affect a propane tank's longevity, such as the size of the tank and how well it has been cared for over its lifespan. Underground propane tanks last on average between 20 and 30 years, depending on the type of soil around it and the quality of installation.
Where Should My Propane Tank Be Placed?
This decision is largely driven by local, state, and federal laws that regulate the placement of a propane tank. These are some key regulations you should know.
Propane tanks under 125-gallon water capacity: These tanks have to be placed at least 10 feet from a window air conditioner and five feet from a crawl space opening.
Propane tanks between 125- and 500-gallon water capacity: These size tanks need to be placed no less than 10 feet from a building and no less than 10 feet from the property line.
Propane tanks up to 2,000-gallon water capacity: Larger propane tanks like these must be placed at least 25 feet from a house or building. Also, no part of an underground tank can be less than 10 feet from a house or building, or the property line.
What Is The Right Size Propane Tank For My Home?
This is where the knowledge that comes from decades of experience that the propane experts at Advance Propane works for you! We'll talk over with you how you use propane (home heating, cooking, water heating, etc.), the size of your house, and whether you plan to add propane appliances in the future. That information helps us determine what size propane tank best fits your needs now—and well into the future.
Contact Advanced Propane for expert propane tank installation and service!
Locally owned and operated since 1992, Advanced Propane Inc. provides southern Kentucky and Middle Tennessee homes and businesses with all things propane including underground and above-ground propane tanks; reliable deliveries of propane, and the sale, installation and service of appliances, including propane gas logs and water heaters!