How To Save On Energy Costs While On Vacation
Spend That Money On Vacation Fun Instead!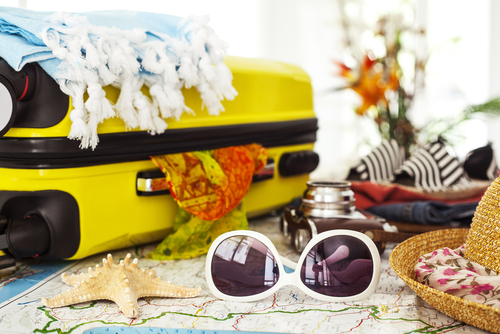 After this past year, a vacation is needed more than ever.
If you're hitting the road this summer—whether near or far—you'll have some things to do before you leave aside from just packing. In fact, some items on your pre-vacation to-do list will help you save money on energy costs, while you enjoy some quality time away from home.
Turn UP The Temperature On Your Air Conditioning
There's no reason to keep an empty house cool. Set the air conditioning thermostat to 80-85˚ Fahrenheit before you leave. If you have a programmable thermostat that can be adjusted by date, use that to set the A/C while you're away and turn it back to your regular setting a few hours ahead of when you're scheduled to arrive back home. This will ensure your system isn't cycling on and off between daytime and nighttime temperatures when it doesn't need to.
Many smart thermostats can be controlled via smartphone so it's even easier to control your home's cooling system!
Turn DOWN The Temperature On Your Water Heater
Heating water makes up nearly 20% of your home's energy costs. Why waste energy and money keeping water hot while you're not home to use it? Turn down the temperature to the vacation setting. If your water heater does not have a vacation setting, set the temperature to 70˚ Fahrenheit.
Unplug Energy "Vampires"
Energy "vampires" is a term used for devices that suck up energy when not in use and secondhandedly drive up your energy costs in the process. These are things include many household items such as your coffeepot, electronics chargers, toasters, slow cookers, air fryers, and multicookers.
Also unplug the TV, washer and dryer, PCs, modems, routers, cable boxes (unless you are DVR-ing shows while you're away!), and any laptops, gaming systems, scanners, and printers, too.
Unplugging as many appliances as possible also lowers the risk of fire while you are away.
Utilize Timers For Lights
A dark home is an open invitation for burglars. Motion sensors on your outdoor lights provide security without the energy expense of leaving them on all night. Put some lamps around your home on timers to make it look like someone is at home.
This is also a perfect time to replace your light bulbs with high-efficiency LED and halogen incandescent bulbs to help cut your energy costs whether you are home or away.
Close The Blinds And Curtains
This serves two purposes. First, it prevents anyone from seeing into your home. Second, it blocks the sunlight that results in daytime heating, which forces your air conditioning system to run more frequently.
Pro tip: If you ever worry about leaving the stove or other appliance on when you leave the house, use your phone's camera to take photos of all your appliances just before you leave so you are sure they are off or unplugged. Also, take photos of doors and windows so you can ensure they are locked—giving you hard evidence and assured peace-of-mind.
Advanced Propane delivers energy-efficient, clean-burning propane. Become a customer today and experience the difference we can make for your Kentucky or Tennessee-area home or business!