Gas Log Sets: Providing Comfort and Style to Your Home
Keep warm and cozy all winter season long—and beyond!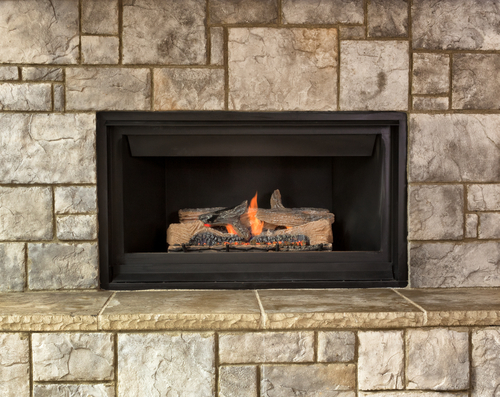 It's that time of year when we're getting back indoors and are wanting the comfort and warmth of a fire in our fireplaces.
But before you can sit back and enjoy a wood fire, there's some labor to be done.
First, you need to bring in the wood
Once that's done, you're tasked to build the fire, light it, and wait for it to become warm.
Once it begins to die, you then must deal with the ashes and soot afterwards.
You don't have to deal with any of that if you use Advanced Propane's propane gas logs from top makers such as Empire, Superior, and RH Peterson! We provide a diverse selection of designs and sizes, so you'll be able to find the right one that perfectly fits your space.
Comfort and Convenience for Homes of All Sizes
Propane gas logs offer the ultimate in convenience when it comes to your comfort. All you must do is push a button and you have a fire—ZERO waiting, ZERO hassle!
You don't have to worry about having firewood on hand with gas logs. Your fuel supply is right there in your propane tank! With our Keep Filled automatic delivery, you'll always have the propane you need for a fire in your fireplace.
Another one of the finest features of gas log fireplaces is that there is no need for post-fire cleaning. There will be no need to worry about cleaning ash or scouring the internet for chimney cleaning services.
Gas Logs are Sought-After Features—and Look Great, Too!
Traditional fireplaces require you to look at ashes, soot, or pieces of burned wood. Gas logs offer a lovely fireplace all the time.
Your gas log set can be customized to fit your décor. Our gas logs are handcrafted to look exactly like real wood and are beautiful works of art. Oak, rustic pine, birch, and driftwood are some examples of gas log sets that will complement your fireplace and style perfectly.
Do You Choose Vented or Vent-Free?
When choosing gas logs, you must decide whether to get vented or vent-free. Efficiency, where your fireplace is placed, local building codes, and appearance are all factors in this selection.
Get in touch with us about adding the comfort, ease, and style of gas logs to your home! We've been selling and installing log sets across the region since our founding in 1992—providing our customers with the most courteous, professional service that you would expect from a family-owned and family-operated business!