Building With Propane
Learn How Propane Can Help Your Project Succeed!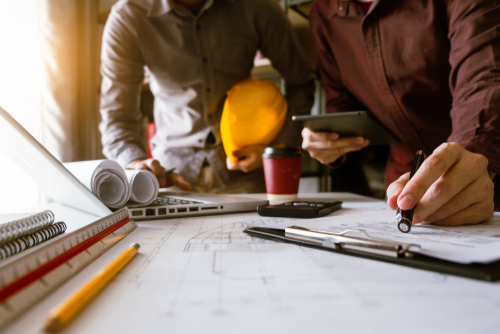 The residential construction market has been intense the past few years, with demand for homes increasing almost daily.
This situation presents a golden opportunity for builders and developers. By using propane in your residential construction projects, you'll give your business a competitive edge while taking advantage of available incentives, too. What's better? Advanced Propane can help with our array of homebuilder propane services.
Propane Helps to Attract Homebuyers
Propane allows you to add sought-after amenities that potential buyers are looking for to the homes you are building. This is regardless of whether you're building in an area served by a natural gas utility or not! Here are some of those amenities:
Energy-efficient home heating.
Fast, efficient water heating with the option of on-demand water heating with propane tankless water heaters.
Gas cooking with propane ranges, cooktops, and ovens.
Easy and convenient gas fireplaces.
Propane clothes drying that gets laundry dry faster than electric dryers with fewer wrinkles.
Creating backyard showplaces with propane grills, fire pits, pool and spa heating, and more.
Security and comfort during power outages with propane whole-house backup generators.
Are There Other Benefits of Building a Home with Propane Systems?
You don't have to deal with a natural gas utility and their schedules when you use propane. In fact, working with Advanced Propane is much more friendly to your building schedule, saving you money by preventing lengthy delays for getting gas lines installed.
You can also use propane in your work, as propane can power generators and temporary construction heating equipment.
The Propane Education and Research Council (PERC) offers incentives to builders who add propane and propane appliances to the homes they build. You can get up to $1,500 in incentives for each home you build with propane.
Working with Advanced Propane is the Smartest Choice You Can Make!
We have extensive experience helping builders such as yourself build homes that use propane. If you've never done it before, you may have a lot of questions. We'll answer them.
One thing we'll help with is the propane tanks your homes will need. First, we'll go over how these homes will be using propane to determine what size tank you will need. We sell and install top-quality propane tanks and provide guidance for you on placement. Many homebuyers prefer the propane tank to be buried underground, for both space and aesthetic reasons. You can provide that because our backhoe service for propane tank installation means we can install underground tanks, too.
All of our service technicians are certified to run propane gas lines into homes and inside them, as well as install an assortment of propane appliances.
Advanced Propane's commercial propane experts are ready to help you use propane in your next building project. Get in touch with us today to get started.