Propane Is the Perfect Off-grid Living Fuel
No Matter Where You Live… Enjoy the Versatility of Propane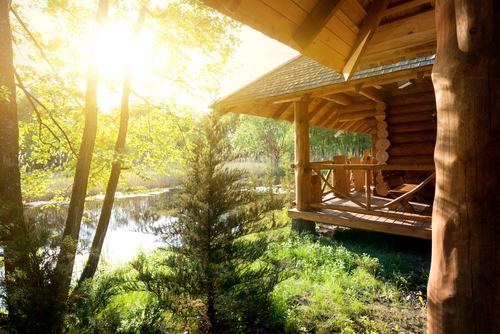 There are many reasons people choose to live "off-the-grid", which more commonly means that they're not connected with public utilities such as electricity or natural gas.
Some do it for the location. They found land that they loved and want to live on, but it is cost prohibitive to connect with public utilities. Others do it for environmental reasons. They want to reduce the environmental impact of their home and lifestyle. Some others do it as part of being self-reliant, so they do not have to depend on others for how they live their lives.
Whatever your reasons may be, off-grid living involves a lot of choices and decisions to make it best work for you. One smart choice to make when it comes to the energy you need to keep your home safe and comfortable is to choose propane for all your heating and fueling needs.
Reliable propane delivery, expert propane tank installation, and affordable propane tank leasing, plus skilled propane appliance and gas line installation from Advanced Propane make living off the grid easier.
Here are some of the advantages of propane, and how we can help you take advantage of them:
Propane Systems Offer Increased Dependability
Even if you live somewhere with natural gas and electric utility service, you know that they aren't always reliable. Something wrong with a gas line miles away could cut off the natural gas supply to your home and neighborhood for hours or days at a time. Storms, wind, car accidents, and grid failures can all cause you to lose electricity at your home.
Propane, however, is always there for you, because it's stored in your tank right next to your home. Plus, with our Keep-Filled automatic propane delivery program tracks your propane usage and schedule a delivery before you run low—ensuring that you'll always have the propane you need when you need it most.
Effective, Cost-Efficient Power
Off-grid living is not always an easy way of life. Some energy options can be very expensive:
Adding solar panels can cost up to $50,000.
Micro hydropower systems can cost $20,000 or more.
Home wind turbines can cost anywhere between $15,000 and $75,000 to install.
Once you get past that cost, you're facing the reality that many off-grid homeowners face. There still isn't enough power to allow for multiple electrical draws at once. You can't use an electric range, for example, if you're also using electricity to run the dryer or water heater.
This is why so many people who live off the grid turn to propane. It allows for their solar, wind turbines, or micro hydropower systems to provide basic electrical power for the home while providing energy for whole-house heating, water heating, cooking, space heating, clothes drying, and more.
Propane can also be used to power whole-house backup generators so that if your other power generating equipment isn't working, you'll still have power for lighting, refrigeration, and other essential uses.
Whether you're on- or off-the-grid, Advanced Propane provides the most dependable propane delivery and service right here in Central Tennessee and Southern Kentucky! Become a customer today to learn more.