How To Choose the Right Gas Logs for Your Fireplace
Enjoy a Warm and Cozy Winter with Gas Logs From Advanced Propane!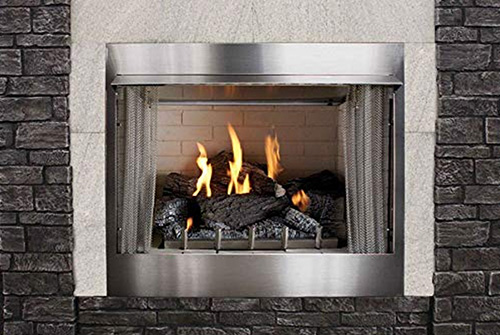 As the weather begins to cool here in Tennessee, many of us are looking forward to relaxing in front of a cozy fire in our fireplace.
If you're tired of the hassle of a wood-burning fireplace—or want to add a gas fireplace to your home—the team of propane appliance experts at Advanced Propane can help you choose the right gas logs for your home! We'll also provide expert installation done to the highest standards for safety and quality.
Seven Things to Consider As You Shop for Gas Logs:
1. What kind of fireplace do you have?
Not all wood-burning fireplaces are alike. If you install gas logs in a fireplace that was not designed to use them, you risk creating a fire hazard or producing noxious gases.
If you have a standard masonry fireplace made from brick or stone, it is most likely compatible with gas logs. However, if you have a prefabricated or zero-clearance fireplace, there may be some potential issues. You also cannot install gas logs in a wood-burning or gas stove.
Do you have an existing gas fireplace and want to change the logs? That may be a problem. You might not be able to switch out the logs if you want to use new ones with an existing gas fireplace that came equipped with logs. In this case, reach out directly to the fireplace manufacturer to explore your possibilities.
2. Will your gas fireplace use natural gas or propane?
This is something that needs to be determined before you purchase gas logs because propane and natural gas burn differently. Thus, the burners in the logs are different. You can't use gas logs designed for natural gas in a fireplace that will burn propane, or vice-versa.
3. What is the shape of your fireplace?
What's great about gas fireplaces is that there are a variety of shapes that can work with your space! However, you need to choose the proper gas logs for the shape of your fireplace.
Front-facing, L-shaped, and three-sided fireplaces use gas logs that are smaller in the back and come with a single burner.
If you have a see-through or a peninsula gas fireplace, you need different gas logs. The logs on these fireplaces are designed to create flames in the front, back, and middle of the fireplace for a more realistic look. The logs and grates are also equal in size so that they look natural no matter which angle you're viewing them from.
4. What are the local building codes for gas fireplaces?
Each state and municipality sets its own standards in their building codes for gas fireplaces. Contact your local building department before you begin shopping so you are informed about requirements in your community.
5. How do you want to control your gas fireplace?
One of the many things people love about gas fireplaces is how easy they are to use. You get to decide how you are going to operate them depending on your wants as well as your budget!
You can choose to start your fireplace with a remote control or a lighter. You also get to choose if you want to be able to adjust the flame and use a thermostat.
6. What size gas logs do you need?
You need to consider scale when it comes to the size of your gas logs and the size of your fireplace. Too big, they look out of place. Too small, and they look inadequate.
But there are two other things to consider when it comes to the size of your new gas logs: performance and safety. There needs to be extra space on the sides so air can circulate freely and prevent the gas valve from overheating.
Before you start shopping for gas logs, take four measurements of your fireplace so we can help you choose the proper size of gas logs to fit it—the front width, the back width, the depth, and the opening height.
7. What style of gas logs do you want?
This is what many people jump straight to when thinking about gas logs. The aesthetics of your gas logs will impact how your gas fireplace and the room it's in will look.
Advanced Propane offers a wide range of looks when it comes to gas logs, depending on your home's style and taste. Our gas logs are carefully crafted to closely mimic real wood.
You can choose a more traditional look with oak or maple. Like the cozy cabin feel? You can choose wood styles such as juniper, pine, or birch. If you like a more coastal feel, driftwood is a great look, too!
Are you ready to upgrade your fireplace this season? Contact Advanced Propane today. We'll be happy to help you get started.