Gas vs. Traditional Wood Fireplaces
Learn About the Benefits of Propane Gas Fireplaces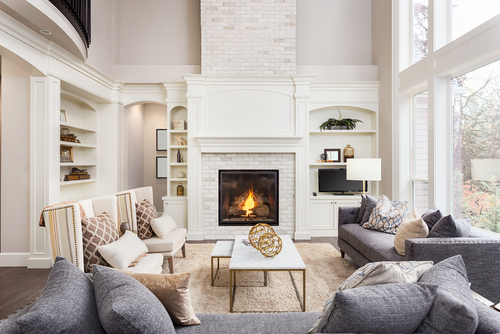 As the weather cools during the early fall season, folks begin to enjoy the simple comforts the season brings like cider donuts, heartier meals, soft sweaters, and a fire in the fireplace.
But if your home doesn't have a fireplace and you want to add one, you have some decisions to make. The big choice is whether to install a traditional masonry fireplace for wood burning, or a propane gas fireplace.
If you choose a propane fireplace, Advanced Propane can help with our wide range of attractive propane gas log sets. They come in a variety of sizes to fit your fireplace—as well as styles ranging from rustic juniper to traditional oak to coastal driftwood!
Our propane appliance experts will not only help you choose the right gas logs for your propane gas fireplace, but also provide expert installation and service done to the highest standards for safety and quality.
Comparing Propane & Wood Fireplaces
| | Propane | Wood |
| --- | --- | --- |
| Convenience | Just push a button and you have a fire! | Much more work. Bring in the wood, build a fire, light |
| Comfort | Relax in front of an attractive, natural-looking fire. | You get the ambiance of a wood fire, along with the smoke and ashes to clean up. |
| Personalization | You can choose the look of your propane fireplace and gas logs to fit your style | There may be limitations in terms of aesthetics and placement |
| Care | Occasionally clean the glass and get an annual tune-up | Annual chimney cleaning is more expensive, especially with added costs such as animal removal ore re-lining the flue or chimney |
| Cost | Installation is affordable and can be done in one day. | Adding a masonry fireplace can cost more than $10,000 and takes weeks. |
| Safety | Safe to operate if you follow instructions. | Safe to operate if you follow instructions. However, the particulates in wood smoke can cause health problems. |
| Environmental Impact | Clean-burning propane creates almost zero emissions | Generates close to 28 pounds of smoke and ash per million BTUs. |
Comparing Vented or Vent-Free Propane Fireplaces
If you already have a masonry fireplace in your home, you can convert it to use propane for the comfort and convenience propane gas fireplaces offer.
You have two options in this situation: vented or vent-free.
Your choice depends on your priorities when it comes to your new propane gas fireplace. Before you choose, check local codes and requirements as some communities may prohibit vent-free propane gas fireplaces as they do generate a tiny amount of exhaust. We can always help you out with this if need be!
Vented Propane Gas Fireplaces. While vented propane gas fireplaces create a broad, lifelike flame comparable to wood burning, it requires an open chimney flue or damper, resulting in less heat retention. If you care more about ambiance and aesthetics than heating, this may be the right choice for you.
Vent-Free Propane Gas Fireplaces. If space heating is your primary objective with a propane gas fireplace, vent-free could be the way to go. The chimney flue is closed to improve energy efficiency. You'll have excellent heating, but the flame won't be as lifelike or attractive. To maintain a consistent warmth, a thermostat regulates the temperature in vent-free log sets.
Do you have questions about propane gas fireplaces and gas logs? Get in touch with us and we'll be happy to help you get started.