How Much Does A Full Propane Tank Weigh?
Understanding How Much Propane is in Your Tank…and How Heavy it is!
The propane tank at your home—whether for your grill or your home heating—is built for safety and durability right here in the United States.
It is made of high-grade steel and is constructed to the standards set by the American Society of Mechanical Engineers (ASME). Constructed from a heavy-gauge steel and coated with an anti-corrosive material, Advanced Propane's aboveground and underground tanks are designed to last with superior durability.
Here's the weights of standard residential propane tanks, both empty and full.
| Size of Propane Tank | Weight of Tank When Empty | Weight of Tank When Full |
| --- | --- | --- |
| 20 lbs. | 16 – 18 lbs. | 36 -38 lbs. |
| 100 gallons | 215 lbs. | 555 lbs. |
| 120 gallons | 260 lbs. | 668 lbs. |
| 150 gallons | 315 lbs. | 825 lbs. |
| 250 gallons | 485 lbs. | 1,335 lbs. |
| 325 gallons | 600 lbs. | 1,705 lbs. |
| 330 gallons | 610 lbs. | 1,732 lbs. |
| 500 gallons | 950 lbs. | 2,650 lbs. |
| 1,000 gallons | 1,760 lbs. | 5,160 lbs. |
Does Advanced Propane install propane tanks?
Yes, we do! We offer complete propane tank installation services.
Our team specializes in both aboveground and underground installations, as we're equipped with backhoe services for tank installation below the surface. We strictly adhere to all local, state, and federal regulations to ensure that your propane tank is installed safely and properly.
We also offer affordable, work-free, and worry-free propane tank leasing. That means you don't have to handle the costs of purchasing or installing your tank. Also, we handle all maintenance and repair work, so you never have to worry about your tank's safety or operation moving forward.
How Do I Make Sure I Always Have Propane In My Tank?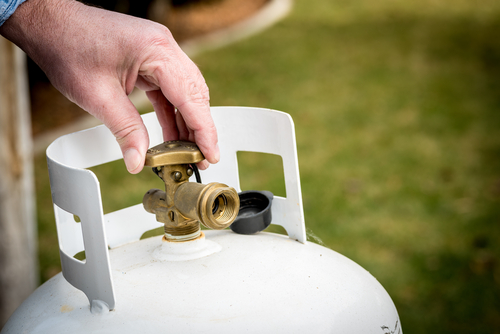 Advanced Propane makes it easy to be sure you always have enough propane on hand to keep your home warm and comfortable.
Our Keep Filled automatic propane delivery gives you ease, convenience, and peace of mind when it comes to managing your home's propane supply. You no longer need to go outside to check your propane tank gauge levels. We use the latest software, along with a tried-and-true degree-day calculation, to accurately predict when you will need more propane.
We then schedule a delivery to your home before you run low.
How Can I Check The Propane Level In My Grill Tank?
Propane is a very popular fuel for grilling, with good reason. It's fast, easy, and gives great results.
Whether you're grilling a quick weeknight supper of having family and friends over for a cookout, you want to be sure you have enough propane in your grill tank.
The easiest way to do that is to install an external gauge, which can be bought at home improvement stores and online retailers. If you don't have a gauge, there are other ways to see how much propane you have in your grill tank.
One way is by using water. Fill a bucket with warm or hot tap water. Pour that water down one side of the tank and immediately run your hand over where you poured the water. Where the tank starts to feel cold, that indicates the level of about how much propane is left in your tank.
Count on Advanced Propane for all your propane tank needs! Contact us to learn more about our propane tank installation and leasing.