Propane for Agricultural Businesses
It's a fuel perfectly made for farming endeavors!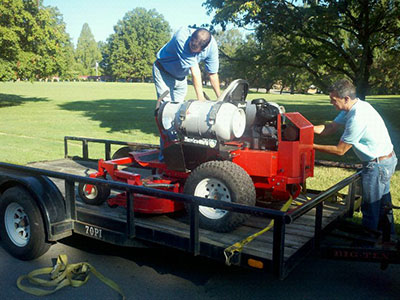 If any fuel was made for the modern Kentucky or Tennessee farm, it's propane. It won't degrade over time, and doesn't contaminate soil or water like gasoline or diesel. The risk of fuel theft is minimal. Additionally it gives you portable power when and where you need it.
Propane's flexibility makes your decision to utilize it easily, whether you're thinking of heating a hog house, adding a corn dryer or converting your fuel-injected pickup to Propane Autogas.
Here's another advantage: Today's continuous-flow propane-powered grain dryers were designed to meet the needs of modern fast-paced, high-yield operations. Not only are they up to 50% more efficient, their clean-burning technology produces fewer engine deposits. That's less maintenance for you, and less downtime.
Propane is a perfect energy source for:
Stock tank heating
Greenhouse space heating
Office heating
Refrigeration
Power dryers
Farm equipment fuel
Generators
Tow truck fuel
Another advantage of propane is its reliability: Propane will keep you in business even when power lines are down, protecting your food and crops and production processing. Plus, propane burns clean and is "green" environmentally.
Since farm and agriculture operations generally consume more propane than residential customers, Advanced Propane offers special high-volume discounts for our agricultural clients. Advanced Propane offers convenient bulk delivery of propane to farms of all sizes, and we offer convenient payment plans to help keep your fuel costs manageable.
Advanced Propane backs our products with highly trained service technicians who are rigorously trained in safety procedures. We are neat, too, always making sure to clean up the work area when we make a service call. And we provide reliable and timely deliveries and 24/7 emergency service.
From heating for your facilities with underground or above-ground tanks, to powering your generators, Advanced Propane will keep your enterprise growing!
Contact us today to learn more about our services.
Local programs can provide additional financial assistance!
The Propane Farm Incentive Program currently offers up to $5,000 toward eligible propane agricultural equipment. Contact us to learn more.