PROPANE DELIVERY IN COOKEVILLE, TENNESSEE
Cookeville, TN, knows they can depend on Advanced Propane for all their propane—and propane appliance—needs!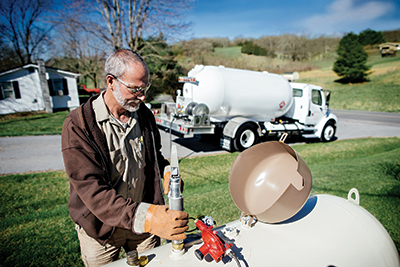 Established in 1992, Advanced Propane has been faithfully serving residents and businesses in Cookeville with our trademark courtesy and propane expertise. Our customers know that when it comes to keeping promises, we always go the extra mile! For propane delivery in Cookeville, appliance service or repair, you can always count on Advanced Propane to be there when you need us.
Advanced service, Advanced delivery!
Advanced Propane is #1 in Cookeville for three reasons:
We deliver the peace of mind you need and the convenience you want—all at prices you can love. By signing up for automatic propane delivery you get the assurance that you will always have the fuel you need without ever worrying about running out.
Our pre-buy guaranteed price plan locks in your rate for the year no matter how the markets fluctuate.
We also offer first-rate maintenance and repair service, helping to keep your systems running like new throughout the year.
Appliance sales, tank installations, and so much more!
When it comes time to install major propane gas appliances, Advanced Propane is your trusted source!
Our selection of vent-free heaters provide an additional heating source for a room or work area, and are available in a variety of blue-flame and infrared models.
Tankless water heaters—like those we supply from Noritz—provide an endless supply of hot water and traditionally last much longer than electric water heaters. These systems work on-demand, so they heat water only when it's needed, eliminating standby losses that occur in systems with hot water storage tanks like the typical electric water heater.
Gas logs from top name brands like Empire Home Comfort feature high-definition bark and natural colors for an authentic wood look. Gas logs burn cleaner than smoke-producing wood fires, and create a warm and welcoming focus for your living areas!
There's so many reasons to love our service!
When it comes to propane providers, very few meet the high-level of service that Advanced Propane has mastered for nearly fifty years, including:
Fair pricing guarantee for propane home delivery
Reliable delivery
Industry-certified expertise
All the latest brands and technology
Round-the-clock response
Easy, flexible payment options
Convenient: manage your account online
Financing options available on new equipment
Low monthly payments
Fast, friendly service
Always ready to help
Visit or contact us at our offices in Cookeville, the heart of Putnam County! Our office is located at:
Advanced Propane
620 East Main Street
Cookeville, TN 38506
(931) 398-1162
Monday 8 AM–4:30 PM
Tuesday 8 AM–4:30 PM
Wednesday 8 AM–4:30 PM
Thursday 8 AM–4:30 PM
Friday 8 AM–4:30 PM
Saturday Closed
Sunday Closed
Cookville loves Advanced Propane!
"We can't say enough about the level of customer service our company received from every level of employee at Advanced! They know how to give excellent customer service, we'd recommend them over and over!" — Mary B.
"Their customer is great. It seems like they always know who they are speaking with every time I have contacted them. I was out of gas at 3am and someone came at early morning and got me filled up. I am a newbie to propane tanks, so I will definitely check and schedule in advance in the future but it was nice that they showed, way exceed my expectations!" — Keith K.
Choose Advanced Propane for all your propane needs!
Whether you are looking for new propane appliances, maintenance, repair or replacement,
or just reliable propane delivery in Cookeville, Advanced Propane has you covered.
Serving Cookeville, Hartsville, Lebanon, and surrounding areas for almost three decades, Advanced Propane is number one for a reason: we deliver!
Call today to get started with reliable propane delivery in Cookeville.