PROPANE DELIVERY IN MURFREESBORO, TENNESSEE
Advanced Propane provides local, reliable propane services you can depend on!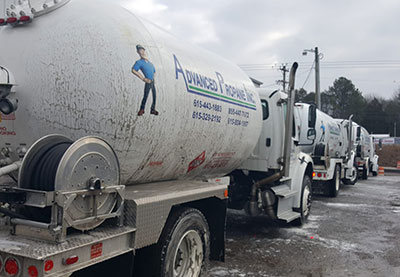 Our family has been in the propane business since 1992, serving the people of Lebanon with our own brand of customer service excellence. For personal service, industry expertise, and clear communication, Advanced Propane outshines the rest!
Advanced has got your delivery needs covered!
Advanced Propane has built our reputation on peace of mind, convenience, and value.
Sign up for automatic propane delivery and know that you will always have the propane you need when you need it most.
Advanced Propane's pre-buy guaranteed price plan allows you to lock in a low rate for the entire year, meaning that no matter how the markets fluctuate, you don't pay a penny more.
We also offer outstanding maintenance and repair service, so your systems will be running like new all through the year.
We offer appliance sales, tank installations, and so much more!
When it comes time to install major propane gas appliances, Advanced Propane is your trusted source!
Our selection of vent-free heaters provide an additional heating source for a room or work area, and are available in a variety of blue-flame and infrared models.
Tankless water heaters—like those we supply from Noritz—provide an endless supply of hot water and traditionally last much longer than electric water heaters. These systems work on-demand, so they heat water only when it's needed, eliminating standby losses that occur in systems with hot water storage tanks like the typical electric water heater.
Gas logs from top name brands like Empire Home Comfort feature high-definition bark and natural colors for an authentic wood look. Gas logs burn cleaner than smoke-producing wood fires, and create a warm and welcoming focus for your living areas!
Advanced Propane is the leading propane delivery service in and around Murfreesboro, TN!
It's easy to see why so many folks here in Tennessee choose our services over the competition—just look at all we have to offer:
Guaranteed best pricing on propane home delivery
Reliable delivery when you need it most
Industry-certified technicians
The latest technology
Round-the-clock emergency response
Flexible payment options to suit your lifestyle
Manage your account online for ultimate convenience
Financing options available
Monthly payments arranged
Automatic delivery of propane
Fast, friendly, courteous customer service
Great communication
Visit or contact us at our offices in Lebanon, the heart of Wilson County, Tennessee. We are located at:
7790-B Highway 109N
Lebanon, TN 37087
(615) 379-7535
Get familiar with Murfreesboro, Tennessee!
Approximately 30 minutes south along I-24 from Nashville, sits Murfreesboro—home to the state's largest college, Middle Tennessee State University, which puts on some of the most entertaining sports games in the region!
Just next door, there are more than 40 miles of greenway trails throughout Murfreesboro and Rutherford County. However, if you're wanting to be more social, there are a number of dining and family fun places to fill your day, including:
Stones River National Battlefield
Oaklands Mansion
Cannonsburgh Village
Discovery Center at Murfree Spring
Shopping at The Avenue
MayDay Brewery
Hop Springs Beer Park
…and so much more!
Plan a trip to Murfreesboro to discover even more ways to make memories!
Why do customers choose Advanced Propane?
"Phenomenal service! We needed new propane lines installed for our dryer, tankless water heater, and stove. The Advanced Propane service team went above and beyond completing our difficult job. Don't waste your time with national companies and call centers, use the local company with employees that care about their customers." — Venus B.
"I called Kevin at Advanced Propane on a Thursday, he came by on Friday, and Chad came by on Monday to install a tank AND gas logs! I ended up canceling the competition's gas log order and saved lots of money in the process. The staff is very professional, friendly, and gets the job done fast! I would give them 10 stars if I could." — Joe G.
Become an Advanced Propane customer today—it's super easy!
For propane delivery, new propane appliances, maintenance, repair or replacement in or around Murfreesboro, Advanced Propane is at your service. We've been Serving Lebanon, Hartsville, Cookeville, and surrounding areas since 1992, delivering propane and propane appliance solutions that make lives better.
Call Advanced Propane today to get started with reliable propane delivery in Murfreesboro and the surrounding area.