World Class Propane Delivery in Cookeville, TN
Fuel delivery, equipment services, tank leasing — Advanced Propane does it all!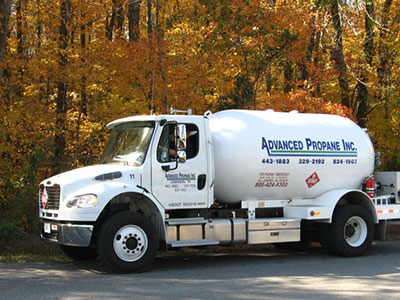 For the most dependable propane delivery in Putnam County throughout Middle Tennessee and Southern Kentucky, trust the friendly professionals at Advanced Propane, Inc. We've been reliably keeping homes and businesses comfortable and safe since 1992.
With Advanced Propane, you can be confident that your fuel will arrive on time and safely. Our delivery team is the best in the business and always shows up with a smile.
Customers are wild about our free Keep Filled automatic delivery program. With Keep Filled, you can stop worrying about running out. Plus, you never need to call us for propane service. Our computerized system tracks your fuel usage for you. When we calculate that your tank is around 25–30 percent full, we send a delivery truck your way.
If you prefer to track your own propane tank levels, we also provide a will-call option. And we are there for you if you need a last-minute emergency delivery.
Advanced Propane makes paying for fuel stress-free.
At Advanced Propane, we understand that the seasonal ups and downs of propane expenses can be stressful to plan for. That's why we offer customers a no-fee 12-month budget plan. Our Budget Billing program lets you spread your fuel costs over the course of the year in even monthly installments. This makes energy budgeting a breeze — no more uncertainty or huge propane bills in the middle of the holidays.
For even more budget security, try our Pre-Buy program. You can lock in your rate for propane by buying an entire season's fuel in the summer. Advanced Propane will deliver it throughout the heating season.
You can find us at:
620 East Main Street
Cookeville, TN 38506
931-526-9111
Office Hours
Monday: 8:00 a.m. – 4:30 p.m.
Tuesday: 8:00 a.m. – 4:30 p.m.
Wednesday: 8:00 a.m. – 4:30 p.m.
Thursday: 8:00 a.m. – 4:30 p.m.
Friday: 8:00 a.m. – 4:30 p.m.
Saturday: Closed
Sunday: Closed
Other propane services we offer.
Unlike our competitors, Advanced Propane offers more than fuel delivery to Cookeville. We also provide a range of propane equipment services. We can install, service, and repair the following propane appliances:
Search for your ZIP code to see if you're in our service area!
The fascinating history of Cookeville, TN.
This region of Tennessee has historically been the home of the Cherokee nations. The first European settlers were largely Scots-Irish and arrived in the late 18th and early 19th centuries. In 1854, Putnam County was established, and the land was purchased for a county seat. Cookeville — named for Major Richard F. Cooke, a Tennessee senator, was founded in 1854 and incorporated as a city in 1903.
Some of Cookeville's famous residents include:
Robert Ben Garant of Reno 911
University of Florida football coach Billy Napier
Jake Hoot, winner of The Voice
Feminist scholar Alison Piepmeier
What your neighbors say about Advanced Propane
"The best customer service I have experienced! They did an excellent job with the propane installation. We also had them run gas lines to our stove so we could change from electric to gas. The stove had a delayed delivery, and they were willing to come back out to install the propane adapter and get all the settings checked out! Don't look any further if you need propane — this is who you must go with!" — Zak M.
"The staff and technicians are fast, efficient, and knowledgeable. They explained every step of the process and are the standard for professionalism. If you're looking for a company that values your business, this is the company to go with." — Mr. Wilson
If you feel let down by an unresponsive propane company, contact us today to learn more about the propane services that Advanced Propane offers.