Dependable Propane Delivery in Lebanon, TN
Families in Wilson County trust Advanced Propane for their home comfort!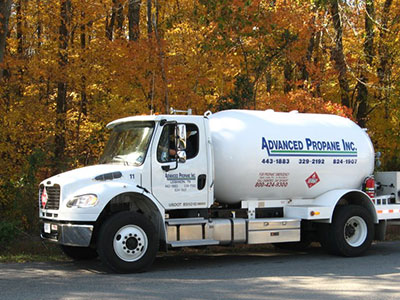 At Advanced Propane, Inc., we've been delivering exceptional service and high-quality propane to homes and businesses since 1992. Our propane delivery service is the most trusted throughout Middle Tennessee and Southern Kentucky.
Our delivery team is professional, courteous, and, above all, safety-conscious. We show up on time and treat your property with the respect it deserves. When you select Advanced Propane as your fueling partner, you have two convenient ways to get propane service.
Most customers choose our Keep Filled automatic delivery schedule. This is a free service where we track your propane usage and deliver your fuel when your tank is around 25–30 percent full. You'll never need to check a tank gauge, call for a delivery or worry about running out again!
We also offer will-call delivery. Our team can handle emergency propane deliveries, too. Your comfort is our top priority!
Pay for your propane services the easy way!
Advanced Propane customers can enroll in a 12-month budget plan at no additional cost. With Budget Billing, you don't need to get hit with several colossal propane bills in the winter. You just pay one low price each month — and slash your winter expenses by half!
We also offer Pre-Buy. Get off the propane-price roller coaster by locking in your rate. With this program, you can buy your fuel in the summer, and we'll deliver it as needed.
You can find us at:
7790-B Highway 109N
Lebanon, TN 37087
615-443-1883
Office Hours
Monday: 8:00 a.m. – 4:30 p.m.
Tuesday: 8:00 a.m. – 4:30 p.m.
Wednesday: 8:00 a.m. – 4:30 p.m.
Thursday: 8:00 a.m. – 4:30 p.m.
Friday: 8:00 a.m. – 4:30 p.m.
Saturday: Closed
Sunday: Closed
We offer a range of fantastic propane services!
In addition to our best-in-the-region propane delivery, Advanced Propane is a full-service home comfort partner. We provide the following services:
Search for your ZIP code to see if you're in our service area!
We serve the households and businesses of Lebanon, TN.
In 1801, Lebanon was incorporated as a city on an existing stagecoach route in a region with many juniper trees. Early settlers in the area had incorrectly identified these trees as cedars and named the place Lebanon. (In the Bible, Lebanon was known for its many cedars.) Lebanon is the seat of Wilson County.
Lebanon has been home to many notable people, including:
Country legend Reba McEntire
Marcellus Neal, the first African American graduate of Indiana University
Charlie Daniels, who wrote "The Devil Went Down to Georgia"
Actress and singer Coco Jones
What your neighbors say about Advanced Propane
"Our new tank was set and serviced today, despite the freezing weather conditions. The workers were courteous, friendly, knowledgeable, and thorough. We could not have asked for a better experience since first contacting this company. We are confident that changing our service to Advanced Propane was a wise decision." — Lynn H.
"Tonight, we came home to the smell of gas, and as soon as Advanced Propane was aware we had an issue, they came out to our home after hours and helped us troubleshoot our issue. They were knowledgeable and resolved everything tonight so we could sleep peacefully, warm and cozy in our beds. Thank you so much to Andy and Chuck!" — Elaine N.
For the most dependable propane delivery in Lebanon, contact us to become an Advanced Propane customer.