Water Heater Installation & Service in Middle Tennessee and Southern Kentucky
Get hot water on-demand with a high-efficiency propane tankless water heater!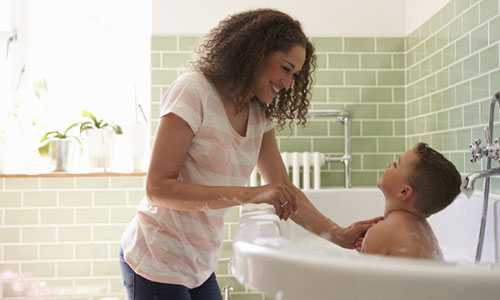 Did you know that heating water accounts for about 20% of your home's energy usage?
If you are using an electric water heater, it could be needlessly driving up your energy costs. That's because electric water heaters are dramatically less efficient than the high-efficiency, quality propane water heaters from Advanced Propane! We carry Rheem and Lochinvar tank storage water heaters and Noritz tankless water heaters. You also get expert installation, maintenance and repair service on your water heater from our trained and experienced service technicians.
Advanced Propane also provides reliable propane delivery for your water heater and other propane appliances.
Propane is king for water heating!
The energy efficiency you get with a propane water heater as compared with an electric water heater will help you save money on energy costs. But that's only the beginning of the ways propane is better than electricity when it comes to water heating.
Electric water heaters are much slower than propane water heaters when it comes to heating water. Propane water heaters can get twice as much water hot as electricity in the same amount of time. That efficiency not only saves you money, but time, as you don't have to wait as long between showers or loads of laundry.
Propane water heaters cost about 30% less to operate than electric water heaters. They also last much longer than electric water heaters, so you get more for your money.
What are the benefits of tankless water heater?
It's impossible to put a price on comfort, but the quality of life in your house is significantly enhanced when you use a propane tankless water heater. You'll never have to wait to take a shower because you no longer need to wait for hot water. You get endless hot water on-demand! A propane tankless water heater can provide enough hot water for bathing and running the dishwasher at the same time.
Propane tankless water heaters also offer outstanding energy efficiency. In fact, they can cut your water heating costs by one-third or more!
Because there is no tank, a tankless water heater is compact and can be installed in tight places, in the laundry room, or even inside cabinets.
We offer service and repairs of water heaters, too.
Many people make sure to have regular maintenance done on their home's heating system. Unfortunately, water heater maintenance is too often ignored. This neglect can lead to breakdowns, a shortened life expectancy, and tank failure that can cause damage to your home and belongings. Our service technicians will make sure your water heater is running not only at its best performance but also at its best efficiency.
When you need water heater repair, we're here for you as well.
Enjoy the comfort and convenience of a propane water heater in your home. Contact us today to learn more about our selection of propane water heaters!