Propane Gas Logs for Your Tennessee or Southern Kentucky Home
Keep warm and comfortable with Gas Logs from Advanced Propane!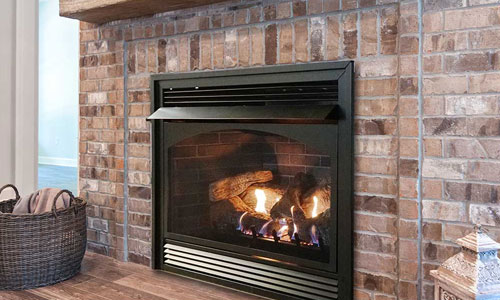 When winter's chill arrives here in Middle Tennessee and Southern Kentucky, relaxing in front of a cozy fire really hits the spot.
Enjoy that feeling whenever you like with propane gas logs from Advanced Propane! We only carry top-quality gas logs from leading makers such as Empire and RH Peterson. Advanced Propane also offers vent-free propane heaters.
You can trust the propane appliance service technicians at Advanced Propane with expert installation, maintenance and repair of your propane gas logs and vent-free heaters.
We're the region's leader for reliable propane delivery, so you'll always have the propane you need for comfort and warmth.
Are gas logs better than wood-burning fireplaces?
Traditional wood-burning fireplaces may sound lovely and romantic, but they're really a lot of hassle, work and expense.
If you don't have a masonry fireplace, adding one can cost $10,000 or more. Then there are weeks of living in a dusty, messy construction zone while this is going on.
Having a fire in a wood-burning fireplace can be a pain. You need to buy or chop firewood, bring it in the house, build and light the fire, then wait for it to get burning. But with propane gas logs in a propane fireplace, fireplace insert or stove, you have fire with the push of a button!
Gas logs always look good—no matter the season!
With gas logs, you're always looking at attractive logs ready for a fire, not ashes, soot and bits of burned wood. Our gas logs are carefully crafted to create the bark and grain look of real wood. You can pick logs that mimic traditional woods such as oak or maple, coastal driftwood, or birch or juniper for a more rustic look. We'll make sure the gas logs are not only the proper style for your fireplace or stove, but also the proper size.
Vent-free propane heating solutions are a great option, too.
Many homes have unheated or under heated spaces, such as home additions, sun porches, garages, sheds and workshops.
Our vent-free propane heaters let you enjoy those spaces in comfort all year round without the expense and hassle of installing central heating or running ductwork. Also, you will only be heating the space when you need it, so your energy costs won't be high. You get to choose which type you prefer, blue-flame or infrared, and we'll make sure you get the right size to fit the needs of your space.
Advanced Propane is the region's leader for propane gas logs, vent-free propane heaters and other propane appliances. Contact us today to get started on making your home better with propane!