We'll help you expand your use of propane appliances for home
Propane is one of the cleanest, most versatile and efficient fuels around. It's a great alternative to inefficient electric appliances, which can really run up your utility bill.
The list of propane-powered appliances propane might surprise you: water heaters, clothes dryers, dishwashers, stoves and cooktops, outdoor lighting, patio heaters, pool heaters and outdoor grills.
Plus:
A propane-fueled fireplace provides all the warmth and charm of a wood-burning unit, without the soot and ash and the chore of lugging firewood around.
When storms knock out power, a propane-powered backup generator will keep your heat and everything else running until the utility company makes repairs.
Propane appliances for sale through Advanced Propane
When it comes time to install major propane gas appliances, Advanced Propane is your trusted source.
Vent-free heaters provide an additional heating source for a room or work area, and are available in a variety of blue-flame and infrared models.
Tankless water heaters provide an endless supply of hot water and traditionally last much longer than electric water heaters. These systems work on demand, so they heat water only when it's needed, eliminating standby losses that occur in systems with hot water storage tanks like the typical electric water heater.
Gas logs feature high-definition bark and natural colors for an authentic wood look. Gas logs burn cleaner than smoke-producing wood fires, and create a warm and welcoming focus for your living areas.
Gas lights provide your home with a distinctive look; our gas lights are available in a variety of colors and styles, including copper, to accent any decor.
---
Save up to $100 with Rinnai!
Rinnai, a leading manufacturer of propane-fired products, is currently offering a special promotion: up to $100 off the purchase of qualifying Rinnai tankless water heaters, heaters and boilers. With Rinnai's superior engineering, smart design and unmatched quality, you'll enjoy an endless supply of hot water—plus significant energy savings, all year long. This offer is valid while funds last—so don't miss out! Contact us for more information today.*
To claim your rebate online or by mail, click here.
$100 REBATE AVAILABLE ON:
Rinnai Tankless Water Heaters (HE+, SE, and SE+Series Only)
Rinnai EnergySaver® Direct Vent Wall Furnaces
Rinnai Condensing Boilers
Rinnai Commercial Water Heaters
Rinnai Hydronic Air Handlers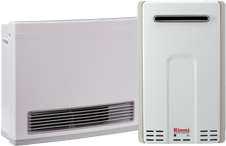 $50 REBATE AVAILABLE ON:
Rinnai Tankless Water Heaters (HE Series)
Rinnai Vent-Free Fan Convectors
*Offer valid through 12/31/21 or while funds last. Product must be installed by 1/15/22.Application must be received by 1/31/22.
---
Connecting your propane gas appliances
Advanced Propane takes the hassle out of gas connections for your appliances; let us install your gas lines safely and professionally, for:
propane cooking stoves
propane clothes dryers
propane refrigerators
propane generators
If you'd like to add more propane appliances to your home or business, contact us today or call our office.